United Cerebral Palsy and #MyLifeWithoutLimits has proudly pledged our support of 3E Love's annual 
International Day of Acceptance.
 Please consider joining us in the movement for acceptance by wearing your heart on your sleeves and sharing your #DayofAcceptance story this Tuesday! 
January 20 
is dedicated to the social acceptance of disability and to honor the late Annie Hopkins, founder of 3E Love and creator of the International Symbol of Acceptance pictured below. Learn how you can get involved at
www.dayofacceptance.com
. What does acceptance mean to you?
Share your #DayofAcceptance story and photos here
. And, use the #DayofAcceptance or #MyLifeWithoutLimits hashtags and tag @UCPNational to share on social media. Here are some stories that have already come in: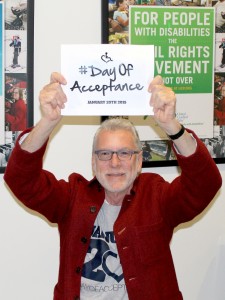 "At UCP, we focus on a single goal: ensuring people with disabilities and their families have the opportunities we all deserve. We want to remove barriers that might stand in the way of seizing those opportunities. And, one of the biggest barriers can be simple acceptance. Most people don't set out to deny opportunities to the rest of us. It happens because most people are concerned with their own challenges and don't stop to think of others. People with disabilities deserve to enjoy the same opportunities as their neighbors. We are all valued members of our communities. We all want the same things in life, some of us just have different challenges." – Stephen Bennett, UCP President & CEO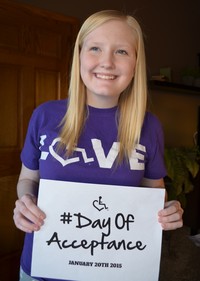 "I imagine a world where people with disabilities are empowered to be fully functioning members of a society where we, people with disabilities, are accepted for who we are and the stigma of difference no longer exists.  A world where people can look past what makes us physically different and see what all we are capable of doing. #DayofAcceptance" – Lauren
"
Z
ach and I met at MDA camp, became friends, and then more. We celebrate acceptance because it allowed us to find each other. We're looking forward to our wedding in September where we can celebrate our love with our wonderful friends and family who support us! #DayOfAcceptance"
– Dawn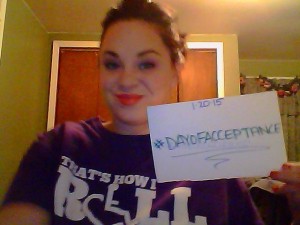 "My name is Whitley Hodges and I was injured in a car crash in 2009. I spent 3 months in the hospital with broken ribs and a crushed spinal cord. I now live with a spinal cord injury and use a wheelchair for daily mobility. My life has changed dramatically since my accident. 
Knowing the life I had before and living the life I live now makes me really appreciate the little things in life. Everyday is worth living, as hard as it may be it is important to accept yourself and others for the people they are. No matter what other human beings look like or despite any type of stigma society, people or the media have placed on people with disabilities, we all have the same need in life to be wanted and accepted. Acceptance is important to me, because I am able and discriminating against others is wrong." – Whitley